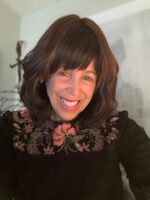 Lynn Russell, photographer, painter and conceptual artist. Her humorous and ironic work stretches boundaries,
Educated in professional photo techniques at the International Center for Photography and School of Visual Arts, Russell creates her unique work by altering and reinterpreting existing images, text and objects, a manner which lends itself to highlighting the artist's individual technique over subject matter.
Russell studied with the masterful Duane Michals at Palazzo Fortuny in Venice Italy. Duane Michals is an American photographer whose work makes innovative use of photo-sequences, often incorporating text to examine emotion and philosophy.
Lynn Russell is associated with The Chassidic Art Institute and The Bezlalel Gallery in Brooklyn.
Prints available for all images. Please contact Lynn for more information.
Solo Exhibitions:
Camden Arts Centre, England, Palazzo Fortuny, Italy, Gracie Mansion, New York, Camera Club New York, Chassidic Art Institute, New York, B I G A R T S, Florida, Cypress Center for the Arts, Florida, FGCU College of the Arts, Florida, Langer Gallery, New York, Liquid Café, Florida
Group Shows
Brooklyn Museum, New York, International Center for Photography, New York, Neikrug Gallery, New York, Edison College Gallery of Fine Arts, Florida, Arts in the Air, Florida, Brooklyn Fine Arts Gallery, New York, Alliance for the Arts, Florida, St. Petersburg Center for Arts, Florida, Lakeland Center for the Arts, Florida, Arts for Act, Florida, The Anne Frank Center, USA
Permanent Collections
Xerox Corporation, R.J. Reynolds, United Way, Board of Lee County, Lee Mental Health Center, Elbogen, Goldenberg, Zoehr collections